Court of Grave Crimes today continued the trial of the 26-member gang led by Haji Mammadov, former high ranking official of the Interior Ministry Crime Investigation Department.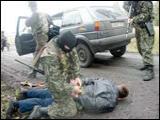 In today's trial hearing, Haji Mammadov solicited for the court's appealing to the Bar for suspending the activity of Jahangir Javadov, previous lawyer for Haji's extramarital partner.
"Naila Guliyeva's testimonies show that lawyer Jahangir Javadov collaborated with the National Security Ministry officers and Investigation Office chief Talat Mammadov in a number of crimes. They violated Naila's rights by making her change her mind. Jahangir Javadov also defended ex-minister of economic development Farhad Aliyev's rights as well. He works for the Security Ministry," the defendant said.
Naila Guliyeva admitted that he faced pressures in the investigation, APA reports.
The public prosecutors and lawyers refused to assess lawyer Javadov's activity for now and said it might be done after the trial. Judge Ali Seyfaliyev dismissed Haji's solicitation.
Adil Ismayilov, defense-lawyer for Zakir Nasirov, former chief of the Crime Investigation Department asked question to Guliyeva on Nasirov's involvement in the crimes.
"The investigators did not accpe my testimonies on Zakir Nasirov. He ordered the kidnapping of Zamira Hajiyeva. Zakir also involved in the murder of criminalist Rovshan Aliyev and Azer Aliyev, chief of the Interior Ministry Office to Fight Narcotics. I knew that Zakir received money for that," the defendant said.
The public prosecutor solicited for declaring the controversial nuances regarding Guliyeva's testimonies to the investigation and upon the trial. Judge satisfied his solicitation. But Guliyeva's lawyer Vali Nagdeliyev protested against the public prosecutor's solicitation.
The trial will continue today.