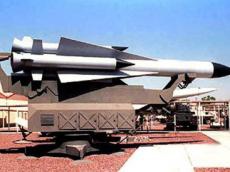 Iran has tested two new missiles, Deputy Army Commander Brigadier General Kioumars Heydari said, FARS news agency reported on April 27.
Heydari has not disclosed the details.
"The new missiles are superior to Naziat 10 due to its technical characteristics," he said.
He stressed that several stages must be conducted before the mass production of these missiles.
Earlier, Iran has successfully test-fired "Naziat-10" and "Fajr-5" missiles.
Naziat 10 is a short range missile, capable of hitting targets as far as 130 km and can be launched from mobile platforms.
Fajr-5 is an artillery rocket developed by Iran in the 1990s. The system is a part of the Fajr family of rockets.

/Trend/