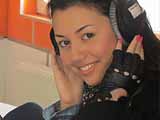 Friday, April 2nd Safura will go on the morning show on "NASHE" radio which is famous for its exhilarating morning programs.
Safura will also appear on Schuster LIVE TV show on Friday night. Ukrainians may stop reading right now and start tuning their TV receivers since nothing more can be said – every one in post Soviet Ukraine knows, who Savik Schuster is.
For those who are following Safura's career from different countries we are going to say that Schuster is the most important TV personality of modern Ukraine and to appear on his show is like getting a free pass to show biz heaven.
/Eurovision Talents/