South Caucasus Pipeline (SCP) testing on exploitation and filling a new gas export system up beginning in Sangachal terminal has been started.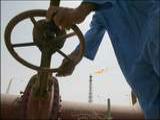 BP Azerbaijan Press Service has told APA that the pipeline is already finished to be built. Hydro testing is over too. This occasion is a big step towards carrying out the gas to market in the III quarter of 2006. Testing gas pumped into SCP from Sangachal terminal on May, 21 passed Georgian border on May, 28 and has currently reached 72nd field, an internal gas delivery place, nearby Gardabani. The exploitation and pressure testing over objects and facilities is still continued.
The rest part of SCP in the direction of Georgian-Turkish border will be tested in August after gas delivery into technologic processing mechanisms in Sangachal terminal and into Shahdeniz underwater gas pipelines prolonging till gas manufacturing platform starts. Approximately 100 million cubic meters gas is required for exploitation tests of entire Shahdeniz/SCP gas export system from Shahdeniz platform to Sangachal terminal and to Georgian-Turkish border. Oil gas of SOCAR from Azeri-Chirag-Guneshli is used for testing purposes.
SCP project covers a new gas export system from Azerbaijan to Turkish margins through Georgia. It is a pipeline of more than 690 kilometers length (442 kilometers in Azerbaijan and 248 kilometers in Georgia). The pipeline is constructed together with BTC pipeline and in the same construction field to minimize influence to environment and social conditions. The diameter of the pipeline is 42 inches and its final delivery power will be made to be 20 billion cubic meters combining compressor stations in the future. The main part of the pipeline construction started in late 2004 and finished in May, 2006.
The South Caucasus Pipeline Company investors are BP (technical operator – 25,5%), Statoil (25,5%), SOCAR (10%), LUKoil (10%), NIKO (10%), Total (10%) and TPAO (9%).