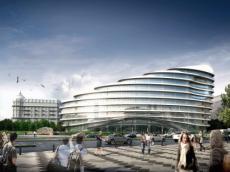 By Azernews
Entrepreneurs of Indian Marathi Bandhkam Vyavasayik Association (MBVA) got acquainted with the Baku White City project, within the framework of India-Azerbaijan Construction Business Forum.
They were informed about the project and ongoing construction work. They were informed that, the area, for many years known as "Black City" and polluted with oil products, ecologically completely cleared. In accordance with the new development project, the world's most up-to-date large living center is being created there, administrative and commercial facilities, recreational and tourism centers are being built.
The masterplan for Baku White City aims to transform the area into a brand new, high quality urban quarter, acting as a catalyst for the regeneration of the city and the wider region.
The project is one of the major urban-planning projects carried out in Azerbaijan in respect of Decree of the President of the Azerbaijan Republic, Ilham Aliyev, entitled to "Comprehensive action plan for improving the ecological conditions in the Azerbaijan Republic during 2006 - 2010" and according to the order of the Executive Power of Baku City dated June 11, 2007.
Head of the delegation, President of the Association Mr. Gajendra Pawar emphasized the interest of Indian businessmen in Baku White City project.
Pawar further stressed that the visit of Indian delegation aims to get acquainted with the construction sector in Azerbaijan and to expand investment ties between the two countries.
The India-Azerbaijan Construction Business Forum  organized by the National Confederation of Entrepreneurs (Employers') Organizations of Azerbaijan kicked off last week. 
Last year the trade and economic exchanges between India and Azerbaijan progressed from strength to strength, increasing by 63 percent in 2016 as compared to 2015.
India has recently facilitated the visa application procedures for Azerbaijan.
From now on, Azerbaijani nationals would be able to get online e-Visa for visits to India for recreation, sightseeing, casual visit to meet friends or relatives, short duration medical treatment or casual business.