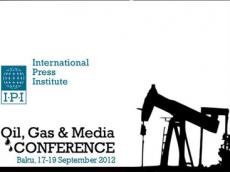 The International Press Institute will host an international Oil, Gas and Media Conference in Baku, from 17-19 September 2012, by the organizational support of State Oil Company of Azerbaijan (SOCAR).
IPI's Azerbaijan National Committee says that, more than 200 press representatives, including Azerbaijani journalists will join the conference.
Oil specialists, scientists and media representatives of 27 countries have already affirmed participation in the conference. These countries include US, Great Britain, Germany, Austria, Italy, Switzerland, Bulgaria, Croatia, Hungary, Turkey, Russia, Georgia, Nigeria, and South Africa. www.ipioilgasmedia2012.com site also started to operate.
Head of the Organizing Committee Umud Rahimoglu says that, professors, leading experts of well-known Columbia, George Washington, Texas University will join the conference with own lectures. Representatives of Reuters, Financial Times, Al-Jazeera, Forbes, The Dallas Morning News media organizations affirmed the participation in the conference.
The conference aims top define the role of oil and gas in free press, development of interaction between journalists and energy partners, and facilitate the development of media with the efforts of energy producer countries. International Eurasia Press Fund (IEPF) provides organizational support to the conference. 
/
AzerTAc
/