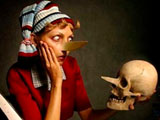 Not so long ago I stumbled upon a very intruquing story. A story about someone, whom most children in the world (along with grown-ups) are very familiar with.
Pinocchio
. Yes, that same "wooden kid" who wanted to be human so much. The article claimed, that Pinocchio...was real. That there was someone whom the world-famous tale was based on. Sadly I was not able to find any english sources on this (only russian), yet I believe this is something that might be of interest to everyone. Even if its a hoax.
So, according to the article (the first one appeared online in 2005), U.S. archaeologists were doing their diggings near the cemetery area, where the infamous Carlo Collodi (the one who wrote the tale) was buried. Not far from his grave, there was another tombstone, with a name on it: "
Pinocchio Sanchez
". After having some laughs about the strange coincidence, archaeologists decided to "dig" deeper into the details. Desperately wanting to know the story of the mysterious man buried next to Collodi, they decided to go for exhumation. So british and italian scientists did their thing - after opening the grave, and checking numerous archive writings, they brought an unknown history into the light.
Pinocchio
did live. He had wooden prosthesis instead of hands and legs, and also a wooden insert instead of nose. One prosthesis had a mark on it "Carlo Bestuldci". Archives revealed the following: in 1760 a boy was born in Sanchez family. He was a normal boy, but there was one difference about him...his height was only about 130 cms. Turned out the boy was a midget. This however did not stop him from going to war (war for independence Italy was involved into at that time), along with his father. Since
Pinocchio
was too small to be a soldier, he became a drummer. Pinocchio entered army at the age of 18, and came back from it only 15 years later. Those 15 years took away his legs, his hands and his nose - he returned home a complete cripple. And just like in a fairy tale, there was a salvation for Pinocchio.
Pinocchio
got acquainted with a local doctor, called Carlo Bestuldci, who was a devil, according to some villagers. Bestuldci turned out to be a real magician - he constructed special prosthetics for Pinocchio, and gave him wooden hands, legs, and even an insert for his amputated nose.
After that, former war drummer
Pinocchio
joined the local theater, and worked there. Since he was small, and had wooden limbs, he was a "fun to watch". He became a somewhat celebrity, however the theater became his new life, and ultimately his death - performing a deadly trick,
Pinocchio
fell down, and smashed his head - something even magician Bestuldci couldnt fix. And, after his passing,
Pinoccio
was buried on the cemetery. Sometime later, then unknown, poor writer Carlo Collodi, remembered an unhappy man by the name of Pinocchio, and thats how the fairy tale was born.
Most people I talked to, havent even heard about "
real Pinocchio
", and unfortunately I was not able to find any confirmation on this story on english sources. However, I contacted an american expert on child literature, and explained the whole article to her. Needless to say, she was intriqued by it, and promised to help out. A few days later, I got a letter from her, where she said to have friends in Italy, who live near the place, where Carlo Collodi is buried. So they might be able to shed some light on this story. One thing for sure - fairytale Pinocchio, and the mysterious war drummer named Pinocchio Sanchez had one big thing in common. They both desperately wanted to become "human". Who knows, maybe they were not destined to, yet the name "
Pinocchio
" remains known all over the world today.
T. Teymur
/Today.Az/

More articles from this author:


Low-budget filmmaking in Azerbaijan: Thinking outside the box
Paul Logan: I kept coming up with creative ways of killing people – PHOTOS
"Russian bear" from Hollywood: I could not kick a man lying before me - PHOTOS
"Terminator T-800": I used my own training techniques to reach outstanding physical condition for this film - PHOTOS
Brent Huff: I was jumping out of helicopters, throwing grenades and shooting M-16's or M-60's - PHOTOS
EXCLUSIVE: Damian Chapa nearly dies while shooting "Brando Unathorized", reveals reasons
Ron Smoorenburg: All the films I did later, none was as hard to do as the one with Jackie Chan - PHOTOS
Martial Arts superstar Loren Avedon talks about Azerbaijan, Quentin Tarantino, shares memories - PHOTOS
Lost Today.Az interview with the "Best Karate fighter in the U.S." - PHOTOS
First of its kind: Azerbaijani "Street Fighters" film hits the internet - PHOTO - VIDEO
Story of a man behind the mask, or someone who made Arnold Schwarzenegger run for his life... - PHOTOS
Former kickboxing champion, Hollywood actor Gary Daniels: I learned a lot from working with Stallone
Legendary martial arts actor Matthias Hues: When you start off at a young age, it becomes your second nature
Mehriban Efendi: Sometimes its not so important to know what an artist created, feeling it just might be enough
Today.Az reports from the animal protection event held near Baku Zoo - PHOTOS
Eurovision-2010: the afterwords
INVISIBLE PEOPLE OF AZERBAIJAN - PHOTOS
Cult actor James Gaines speaks about his "Philippino action" days, shares memories - PHOTOS
Cult Hollywood actor Vernon Wells: Schwarzenegger loved pulling pranks, he was like a big kid! - PHOTOS
Cult Hollywood director shares his memories with Today.Az
Silent beauty of the Baku's Mime Theater – PHOTOS
Jesse V. Johnson: I use real soldiers, real criminals, and real strippers in my films
Canadian conflict expert Scott Taylor: US House Committee may have inadvertently set the stage for next chapter of bloodshed to begin
Azerbaijani "2010 Sony World Photography Awards" photographer speaks with Today.Az
Jalal Merhi: I met David Carradine a few months before his death
World famous artist considers Azerbaijan as part of his motherland - PHOTOS
Hollywood Legend: My fight with Clint Eastwood was the longest two-man fight scene on screen
Canadian war journalist Scott Taylor: Armenia can't move on forward with closed borders - PHOTOS
Jerry Trimble: It was a pleasure to fight Tom Cruise - PHOTOS
Tim Abell: Most heroes and villains share many of the same qualities on the screen
Damian Chapa: Everyone asks me why I did a movie about Roman Polanski
"Queen of martial arts movies" Cynthia Rothrock: I didn't like karate, it was hard for me - PHOTOS