On 27 of may, a picket was to be held near the Baku Zoo. The picket was arranged for people and especially the government, to pay more attention to the violence that homeless animals suffer from, almost every day.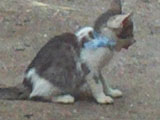 The picket was set to be held on 29th of May. So, being an animal lover, a proud owner of 2 cats, I decided to attend.
I arrived early, and caught people already setting up the equipment, tables, chairs and posters in front of the Zoo. The police was there was well, and, as I was later told by the project coordinator, the picket was sanctioned, and the police was invited to it. So, for nearly 30 mins or so, I stood there, watching it all being set up, occasionally lending a hand when needed.
The picket was called "One cap of water", meaning that sometimes great help to the animals can be measured in just water, that a man can give to the animal. Speaking of the animals, Several kittens were brought there, kept in a cage, in case someone decides to take the lucky ones home. Thankfully, they were not for sale. There was also a grown dog, that was already "taken" by a foreigner female, named Monica. The atmosphere was rather calm, although I felt bad for those kittens.
Interesting, how would you feel? Image yourself being that small, you're being brought to an unknown place, in a cage, along with your brothers, you see little kids sticking their fingers at you through the cage...and you're on a give-away...
Anyway, when everything was set up (special shirts were also given to all participants), organizers and several quests started talking on the mic, in front of the cameras. I stood quietly not far away from the place, and while listening, kept my eyes on the crowd, which was got bigger once the talks started. Not surprisingly to me, some people (as usual) came up just to see "whats with all the noise". Just by looking at them, I realized, that none of them would actually give something to eat to a little kitten, or a puppy on the street.
The talks were mostly about "how we need to protect, and not to harm our little brothers", and urging the government to create a special center for these animals, where they can be properly treated, examined, and sterilized if necessary. So I took the pictures, and just after the talks ended, I disappeared.
To sum it up - its a good thing that these kind of events are being organized. Rare, yes, yet they sometimes make people think about being less selfish. On the other hand, as one U.S. sports newspaper stated back in the 70's (about Wilt Chamberlain, arguably the best basketball player in history) - "Even Wilt cant beat them all". Same thing here - all stray animals can not be saved, yet I would have liked that very much. People need to change their attitude towards these little furry creatures, and stop destroying the life near them.
T. Teymur
/Today.Az/
Click photos to enlarge: