Lost, exclusive short interview, which was never before published in English, with a former karate champion, Hollywood star Keith Vitali. The interview was taken on 18th of August, 2009.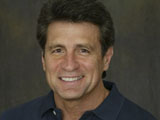 Keith Vitali is an american actor, producer, martial artist, and author of numerous books on self-defense and care for children. Vitali was born in 1952. In 1971 in the University of South Carolina, Vitali (who was into martial arts at that time already), receives his first black belt, after only 2 years of training. In the next 10 years, Vitali was a regular at the many martial arts tournaments, and he was deemed "The best karate fighter of the U.S.", as he was nearly undefeatable.
Vitali was also a world champion, and U.S. champion (1978-1980). Soon, he is noticed by the martial arts oriented magazines, such as "Black Belt Magazine", which named him "one of the 10 best all-time karate fighters". Articles about Keith Vitali were being published regularly at that time, and he himself soon had his own column about martial arts. He also wrote a few books on Karate, and especially how children should protect themselves from the bullies. The book was so successful, that he soon got invited to the Oprah Winfrey show. In the movies, Keith fought with the best, such as Sammo Hong, Jackie Chan, Loren Avedon, Darren Shahlavi, and Gary Daniels. In this exclusive interview, Vitali talks about Cannon Films, how he nearly knocked out Sammo Hung for real, his future, and other things.
Mr. Vitali, how did you get started in the movie industry?
I was fortunate to be discovered by Cannon Films from two martial arts magazines, "Karate Illustrated" and "Kung Fu" that had come out at the same time. I was the Number 1 fighter in the country at that time and Cannon Films was looking for a new face for their next film, "Revenge of the Ninja". The film was a major hit after getting a national theatrical releases making it one of the top films of the summer of 1984. That film propelled me to other films.
What in your opinion is the biggest difference in a fighting movie by American director and an Asian director?
The biggest difference between the two different styles is that the Asian style of fight directing employs a faster paced, rhythmic style of movement than the American directors. While the Asian style is more appeasing to the eye, the American style focuses more on the power and the result of each blow. For example, in one of my fight scenes with an Asian director, I might throw 20 powerful punches and kicks landing all of them against my attacker with him showing no consequences of all those blows landing. The Asian emphasis is more on the atheistic expertise, beautiful kicks, punches and fantastic stunts. The American audiences enjoy seeing the direct result of a powerful kick or punch. Take Steven Segal for example of an American style, when he hits someone once on film, they die.
After the filming of "Wheals on Meals"(a 1984 Jackie Chan movie), you've said to have knocked out Sammo Hong during a fight scene. Is it really true? How did that happen?
I did knock out Sammo Hong with a jump spinning kick in that film. It was my 40th or so take, I was exhausted and my aim was off. I was also fighting two opponents at the same time and timing had to be perfect with each move because Sammo was wielding a weapon as well. Sammo took the hit graciously, and let me know that it was okay. He gathered himself and we continued shooting that same scene until I got it right.
Have you ever considered working as a fight coordinator on the movie set?
I have worked as a actor and fight coordinator before. I did so in "American Kickboxer" that we shot in South Africa. It would be fun to do more.
From a professional point of view, who in your opinion is a top martial arts movie star today?
My favorite martial arts fighters are: Jackie Chan, Bruce Lee, Jet Li, Tony Jaa, Chow Yun Fat, Michelle Yeoh and Gary Daniels.
Mr Vitali, you've achieved a lot in martial arts, but to some people you've become known as a martial-arts actor. Any chance of seeing you again on the big screen?
Hopefully soon, you will be hearing about me behind the camera rather than in front on it.
T. Teymur
/Today.Az
/
Click photos to enlarge:
More articles from this author:
First of its kind: Azerbaijani "Street Fighters" film hits the internet - PHOTO - VIDEO
Story of a man behind the mask, or someone who made Arnold Schwarzenegger run for his life... - PHOTOS
Former kickboxing champion, Hollywood actor Gary Daniels: I learned a lot from working with Stallone
Legendary martial arts actor Matthias Hues: When you start off at a young age, it becomes your second nature
Mehriban Efendi: Sometimes its not so important to know what an artist created, feeling it just might be enough
Today.Az reports from the animal protection event held near Baku Zoo - PHOTOS
Eurovision-2010: the afterwords
INVISIBLE PEOPLE OF AZERBAIJAN - PHOTOS
Cult actor James Gaines speaks about his "Philippino action" days, shares memories - PHOTOS
Cult Hollywood actor Vernon Wells: Schwarzenegger loved pulling pranks, he was like a big kid! - PHOTOS
Cult Hollywood director shares his memories with Today.Az
Silent beauty of the Baku's Mime Theater – PHOTOS
Jesse V. Johnson: I use real soldiers, real criminals, and real strippers in my films
Canadian conflict expert Scott Taylor: US House Committee may have inadvertently set the stage for next chapter of bloodshed to begin
Azerbaijani "2010 Sony World Photography Awards" photographer speaks with Today.Az
Jalal Merhi: I met David Carradine a few months before his death
World famous artist considers Azerbaijan as part of his motherland - PHOTOS
Hollywood Legend: My fight with Clint Eastwood was the longest two-man fight scene on screen
Canadian war journalist Scott Taylor: Armenia can't move on forward with closed borders - PHOTOS
Jerry Trimble: It was a pleasure to fight Tom Cruise - PHOTOS
Tim Abell: Most heroes and villains share many of the same qualities on the screen
Damian Chapa: Everyone asks me why I did a movie about Roman Polanski
"Queen of martial arts movies" Cynthia Rothrock: I didn't like karate, it was hard for me - PHOTOS