Canadian conflict expert & former soldier Scott Taylor expressed his opinion on the recently adopted resolution of "Armenian genocide" by the US House Committee.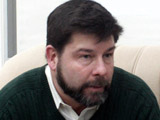 According to Taylor, accepting the resolution was a diplomatic mistake, and its consequences dealt a serious blow to the turkish-armenian rapprochment.
"The US House Committee's adoption of the Resolution regarding the Armenian 'Genocide' has already sent reverberations throughout the already unstable Caucausus region. The delicate balance of attempted rapproachment between Turkey and Armenia has been dealt a serious blow at an extremely critical moment. I have always maintained that third party politicians - in this case Americans, have no role to play in the definition of historical events. However by taking such a pro-Armenian stance at this crucial juncture, the US House Committee may be inadvertently setting the stage for next chapter of bloodshed to begin. This was a diplomatic error in judgement of the highest magnitude on the part of the United States", the expert said.
T. Teymur
Today.Az