Exclusive interview with Canadian actor-producer-director Jalal Merhi.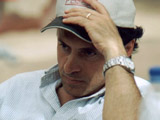 Jalal Merhi is a Canadian action film actor-director-producer of Lebanese origin. Merhi is mostly familiar to the fans of the 90's action & martial arts movies. Throughout his career he worked with such stars as legendary Bolo Yeung, David Carradine, Cynthia Rothrock, Olivier Gruner, Billy Blanks, Lorenzo Lamas. 
Merhi is no stranger to the martial arts genre. Back in the day (that would be mostly the 80's), he participated in nearly 150 fighting tournaments, with a great deal of success. Same as with most action movie stars of that era, Merhi was discovered by a film producer, and his career took off.
Today, Jalal Merhi is mostly a director, and founder of his own movie production company Film One. From its inception in 1989, Jalal Merhi's company, Film One, has carved its niche in the lucrative action genres. Merhi is also an accomplished jeweler & an avid racing car fan.
Mr. Merhi, there is very little info about your martial arts background, and the numerous tournaments you won as a fighter and a weapon specialist. Please, tell how you started your martial arts...
I competed mainly in Ontario Canada and NY, Ohio, Pennsylvania. In California I competed once due to distance, Florida US Open in Treasure Island, in the US. Mostly between the years 1978 and 1986. My last Competition was in Argos (Greece), I was defending the Title I won in the same city, in 1984. 1980-1983 were my best years. As for the weapons - I was competing in a Martial art tournament, Canada Cup Classic. I Won first place in forms and the weapon divisions. Then I became the grand champion.
Mr. Merhi lets go back a bit to the birth of your movie business company Film One. How did you start it off?
Apparently, a movie producer and a director were they are looking for new talent, so they approached me. In addition, after that one thing led to another. One of my Kung Fu Students was an aspiring writer. 
What are, in your opinion, the biggest achievements of Film One, at the present time?
Staying in business for the last 20 years.
As far as I know, you worked with legendary David Carradine twice - first on the movie "G.O.D", and then later in "Blizny Boy - the Ultimate Fighter". Sadly, Carradine is no longer with us. What are your memories of David? How did you first meet?
We met in 1994 while I was shooting "Expect No Mercy". I used his ranch in California as location for shooting. When we met he was on his horse, he looked great. We later became friends after meeting a few times in Toronto, and LA for coffee or drinks. I remember the last time we met few months before his death, he told me he was bored. He was a great musician piano and guitar player, with nice voice. He gave me personal recordings that most people do not know about.
You worked with Billy Blanks on 3 movies ("TC 2000", "Talons of the Eagle", "Expect no Mercy"). What was it like to be working with Blanks, who now is considered a fitness guru in US? How good was he martial arts wise?
Billy and myself knew each other from the age of 20, I first cast him to play in "Fearless Tiger", but he got at the same time an offer to play in a Sylvester Stallone film, so he took that offer at the last minute. As for Billy's attitude, he is a great martial artist and a very hard working person. That is why I cast him in his first good Guy role in "Talons of the Eagle", then "TC 2000" and finally in "Expect No Mercy", where he replaced Olivier Gruner at the time.
What was the hardest movie you ever worked on both as an actor or a crew member?
"Operation Golden Phoenix", due to bad partners, and "Expect No Mercy" due to the blue screen work.
Do you have any future plans for the stars of the 90's action films (Matthias Hues, Loren Avedon, Billy Blanks, Lorenzo Lamas) to maybe star in a Film One production?
They are all great, but I do not like to go back to the past. 
You are said to be a big fan of sports cars. Is there any chance someday you might change your moviemaking career to something connected with car racing?
No, I am afraid it's too late for that. Besides, I have a family.
T. Teymur
Click pictures to enlarge: