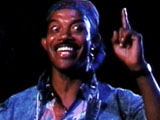 Some movie fans say, that the peak of war-action movies was back in the mid and end 80's. I'll have to agree with them. There however was another so called "branch" of action movies - the ones that were shot in Philippines. They were cheesy, brainless, with lots of explosions, deaths, fights, in other words - action was over the top, and it, as the time went on, turned them into cult movies. The good thing is, the leads in the movies, were mostly americans, or widely known international stars. Such as
Gary Daniels
and Richard Norton started their careers in "Philippino action" films.
There were also american actors, who stayed in Philippines, and were acting in pretty much every action movie that was being made there at that time. To name a few, Jim Moss, Nick Nicholson, James Gaines. And James Gaines in fact, is the one who will be answering the questions! With just under 50 action films under his belt, veteran actor shares his memories about the "golden era" of action films, difficult work as a director, and the fun he had shooting the Predator rip-off...
Mr. Gaines, please tell how did you settle down in Philippines? From what I know, the market for B-movies was quite big in the 80's in the U.S. yet you preferred Philippines…
My first time in Philippines was in 1965, my father being a retired army officer was working for the US embassy then. It was on and off in the Philippines for me and my only sister. Because my Mother was working in Hawaii so we shuttled back and forth.  
How did all that "boom" with "Philippino action" movies started? According to the information I have, there have been nearly 10 action/war related movies released every year in the 80's…
Well there was a demand for B movies worldwide then, there was Milan, Berlin, Cannes, Tokyo, Film festivals, and the biggest was AFM. So you can imagine the demand. I believe it was more than ten films a year, Mr. Lim (Kinavesa/Siver Star) alone was cranking up 5 films a year.
Considering that not just every actor could star in action and martial arts movies, my question to you – did you have any military background or martial arts experience prior to acting in those movies?
I was in the Army for a while, and disciplined in Boxing, Aikido and Uechi-ryū. 
What was the most difficult movie you ever worked on? What was the most fun?
As an actor I guess "Dog Tags" was the most difficult, because I had to loose 20-25 lbs and maintain my skinny frame for 4 weeks to convincingly play the part of Pee, a POW. Then there was "Solitaire", a thriller that I directed in 1998, what made it difficult was my producer was eccentric, and his son at 24 who was the President for production and who had no Idea about production or producing, and yet he was running the show, well that was adding insult to injury. Took me almost a year to complete the film. As for the good memories, I had so much fun when I did Zombies 3 and Robo-War, man that was insane!       
Did you ever return to the U.S. to try to find your place in American movie market?
I did but only to study, I could have and maybe I should have, I was invited by Menahem Golan to see him in LA when he was shooting American Ninja here (this is was his way of returning a favor when I helped his daughter secure a visa for the US). But I did not want it that way, because I wanted to help her. I sadly cannot recall her name. 
From what I know, many actors have some other business on the side, besides their profession. What other business are you in, besides the movie business? What are your future plans, regarding the film industry?
I am involved with Imagine Nation Production Corp. a new Digital Post production company, I am also a Managing partner of MA Smart Market Research and occupied with Business Logistics Outsource Group newly formed small outsourcing business that services Construction and Hauling companies. As for the film industry, I am trying to pool resources for a project to be shot in Hi-Def, a horror-thriller I wrote and I hope I can get things done this year. And last but not the least, waiting for a good friend who's arriving in a couple of weeks and start pre-prod for a satire comedy to be shot in Philippines this year.
T. Teymur
/Today.Az/
Click pictures to enlarge: