Exclusive interview with an Azerbaijani surrealist artist Mehriban Efendi.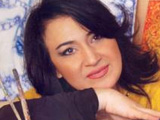 Mehriban hanum, your expression of arts has some very interesting points. I'd like to concentrate on them. You said, "nice music drives you up, and you lose your sense of reality"… Now, please tell how does music help you get your ideas? Does the music style matter? How, in your case, is music connected to the drawings you later do?
Yes, it is truth that a music which suits to my emotional condition drives me up.It is usually a spiritual one and also classical music too. I feel like in a trance and I really lose a sense of reality. Sometimes this condition is called meditating. While painting, I get an unusual feeling of being close to God, Space, and to the Universe. That mystic sense has been the primary inspiration that has allowed my imagination to transfer my feelings from the sub consciousness to the consciousness of a paper. And all this natural meditation experience started when I was 5 years old. Then, at the age of 7, I could not stop painting even though before I did not paint at all.
What is abstract art in your point of understanding? As an artist, how do you think abstract drawings (since you happen to draw like that, and like it) should be accepted by viewers?
I love freedom and independency and even though I obey to all the laws which help to prevent chaos. Abstract art is for me is expression of Your own point of view, your individuality. Not dictated by any rules or conditions. I am a surrealist artist. Surrealism, abstract or just modern art mentality is harder than one can comprehend. Sometimes people think that it is easy to paint some art piece which is not clear to understand, and complicated with figures or lines. But only professionals know that this ability requires more fantasy, and creativity. 
I am in love with classic art style too. I believe that without studying the basics of classical art one cannot create an art piece properly. Besides, all the knowledge, talent and hardship work the creativity also require to have a your self in order to express yourself. Sometimes it is not so much important to know what an artist created. Feeling it just might be enough.
You participated in a "Surrealism Now" exhibition in Portugal, representing Azerbaijan. Please, tell us how you first got invited to the exhibition, what new attractions and views you experienced? How do works of other masters compare to yours?
"The International Surrealism Now exhibition "which  is organized by Bissaya  Barreto Foundation in Portugal,Coimbra is a unique event gathering together from all over the world  a great number professional well known  surrealist artists. The aim of this exhibition is to show the Surrealism Art of 21st century, by leading surrealist artists of the world living and creating nowadays. For the first time the artists are all together demonstrating their masterpieces. This project was launched 2 years ago and started for  the exploration and invitation of artists of  the World. The opening ceremony was in  the 20th of may 2010  in SANT´ANNA CONVENT AND BISSAYA BARRETO MUSEUM HOUSE in Portugal.
My art picture of  "Mugam" is being demonstrated to the public in this exhibition for the first time. It is a new picture and I started to paint it before getting the invitation from Santiago Ribeiro who expressed his wish for my participation in this art event, He considers that my style of expression is very imaginative and unique. He decided to send me the invitation even though the limits for participating was already finished and my situation was an  exception. I value this exhibition, because there are so many interesting artists and it seems, that there are has been a revolution in the art world. I think, surrealist artists get more understanding and interest to their unusual style of expression in this ecologically disaster world, full of negativity. And international projects like this one break all the walls which divide us from the information and growth and joins people with different  beliefs and culture. 
According to your biography, you've had nearly 15 exhibitions around the whole world, including Australia, Britain, Ukraine, Uzbekistan, France… Can you remember which exhibition are you most proud of? Anything interesting of those exhibitions you would like to share with us?
I remember all the exhibitions, and they all have their own history and importance for me. But one of the most interesting was when I got the invitation from Australian well known digital artist Parys St Martin to participate in The International digital art exhibition of  "Cyber art to the dining table", in Australia 2003.
The exhibition required art works in digital format, and even though I create everything with my hands, the organizers were glad to have me participated in the exhibition. With participating in this (unusual for me) art exhibition, I found new friends and we still continue our collaborations.
A big role in my art career is my collaboration and mainly the friendship with an American residence of Tauni Greener, who lives in Montana (U.S). And everything started with a simple group exhibition of Azerbaijani artists in a gallery in Baku. She became my sponsor and art manager for several projects held  not only in Azerbaijan, but also in USA, and other countries as well. She even got a proposal from Sony musical company designers to use my art pictures in Bob Dylan CD cover. This project we could not get off the ground for some reasons. At that time, I even did not have a web site and other necessary materials for promotion of my art. But she could organize a great  personal exhibition in Montana, Bigfork  and opened my website of
www.mehribanefendi.com
and organized a contract with Digi Pix company to print the copies of my pictures and found a sponsor as "Weatherford" company based on Germany which has led to my being discovered by art critiques. So that's how it all started.
Again, getting back to your bio, that states you as the leading specialist of the State Film Company of Azerbaijan, and also a member of film directors Guild of Azerbaijan, Union of Cinematographers Russia(CIS)… all of these pretty much connected with Film… being an artist, have you ever had anything to do with films? Have you ever considered acting, or directing?
I am, in fact, a filmmaker too. I work at the film Studio of "Azerbaijanfilm "as the head of the department of preparation to shooting films. I have worked in many Feature and TV films as an art director and as a costume designer too. One of my last international film projects was "Absurdistan " by famous German film director Veit Helmer, of German/Azerbaijani Production. I was the costume designer for this interesting film which has gotten more than 15 international  prizes as the best film in more than 50 film festivals around the world.
I am proud of my work in such Azerbaijani films like "Hotel Room" by Rasim Odjagov, Melody of Space and "Strange time" by Huseyn Mehdiyev, which won 4 international prizes like in Madrid film festival. I know one thing, that whatever I do, I like to do it with a full heart and imagination. Wherever I am, I carry the main mission of my creativity of spreading to the world through my art pictures. And that is love, Peace and Harmony.
T. Teymur
/Today.Az
/