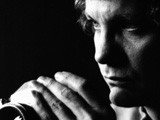 David Worth is no stranger to real movie fanatics. This is the guy, who brought you some of the most memorable films, which soon became cult classics. In this exclusive interview, David Worth talks about his approach to moviemaking, hard work on Van Damme's "Bloodsport", Clint Eastwood and other things. Read on.
Mr Worth, you started your career way back in 1975, with "Poor Pretty Eddie", which, if I am not mistaken, was a horror movie. Then, after that you switched to action movies, martial arts related films, and thrillers. Please, tell us how did you eventually started working in the business, and why you quickly switched the genres, after your first horror film?
Actually I had started several years before "Poor Pretty Eddie", and had been working as a Cinematographer / Editor on various no budget features and underground Art Films… All of which have vanished into oblivion.  I had left being a Motion Picture Major at UCLA when I discovered that there were no Apprenticeship or Internship programs in place and began working my way up in the "mean streets" of Hollywood. I didn't consciously "switch genres" I simply took whatever work I could find.  I didn't care it was, Westerns, Art Films, Action, Horror or Thrillers… I just knew that I need to keep working my way up…
Your list of works also includes a great deal of cinematography work. And one of the first on the list was the infamous "Any Which Way You Can". The movie itself is not considered one of Clint Eastwood's best, but is remembered for another reason – the long-lasting fight between Eastwood and William Smith. Any good memories while working on that movie?
Actually, I had done "Bronco Billy" with Mr. Eastwood Directing and Sondra Locke co-starring, before I did the sequel to the monkey movie, "Any Which Way You Can"… & "Bronco Billy" is remembered as the first film that Mr. Eastwood began to receive critical acclaim as a Director…
"Any Which Way You Can" was a lot of fun to do because it was my second film in a row with Mr. Eastwood and Ms. Locke and also featured the delightful Orangutan, "Clyde". Clyde was always kissing Clint and Sondra or grabbing a beer to drink out of anyone's hand.  During the long fight scene when Clint and William came blasting out of the back door of the restaurant Clyde had grabbed a fist full of pasta in the kitchen and had it hanging out of his mouth… Everyone behind the camera broke out laughing but the scene is still in the film.
Also the extended fight scene was done as a homage to John Ford and his film, "The Quiet Man", which also contained a long fight scene between John Wayne and Victor McLaglan… I even used an old Carbon Arc for fill light, it was on wheels and was pushed along where ever the fight carried us in the town of Jackson Hole… 
In 1988 you were involved in a martial-arts movie, which soon became a cult-classic, "Bloodsport". Please tell us about how you worked on that film, what was your fist experience of meeting with Jean Claude Van Damme and Bolo Yeung?
It was a thrill to do "Bloodsport". It was directed by the amazing Newt Arnold and yes it was my first time to meet Jean Claude and Bolo Yeung… It was also my first film in Hong Kong and our Hollywood team was given the best equipment, crew and facilities possible by the late, great Charles Wang who was the owner of Salon Films at the time. 
It was Van Damme's first major film & it was a joy to make him look great up on the big screen.  The Kumite where all of the fights took place was a set built on an air-conditioned sound stage that also had four walls and a ceiling. I was able to have the entire set pre-lit so that we could shoot all of the fights with three Panavision cameras and never had to take the time to do any re-lighting. As a result we averaged over 70 camera set-ups every day, with a record high of 93 on one day…
Your collaboration with Van Damme continued, as you directed "Kickboxer", and this is another movie that was to become a cult-classic. Was, at that time, a high demand for such martial-arts films? Or "Kickboxer" was done based only on the success of "Bloodsport"?
Yes, you answered your own question. Both Van Damme and "Bloodsport" had been very successful and "Kickboxer" became his next starring vehicle… The producer had seen how well I handled all of the difficult work with a mostly Chinese crew on location in Hong Kong and finally agreed, that I was the best choice to Direct "Kickboxer"…
What seems strange, is that most people, even here in Azerbaijan remember the name – "Tong Po", and occasionally spit it out. No one talks about "Van Damme", or the movie itself. First they say "Tong Po", then comes "Kickboxer", then "Van Damme". Why, in your opinion the character Tong Po became sort of cult, so popular?
I'm not sure why that has occurred… Of course "Tong Po" was a great character, and huge physical presence and an amazing bad guy… But Van Damme and his extraordinary training and journey to a seemingly impossible victory over "Tong Po" was clearly The Star of the film.
Most of the movies you worked on, both as a director and as a director of photography are one way or another involve martial arts, and martial art actors (Cynthia Rothrock, Roddy Piper, Van Damme, Bolo Yeung, Daniel Bernhardt) – is it just a coincidence, or you prefer working with martial arts oriented material? Are you yourself in any way involved in martial arts?
Of course after Photographing "Bloodsport" & Directing "Kickboxer", I was recognized as someone who could successfully do Martial Arts. I was never involved in Martial Arts in any way, but I knew how to be an efficient and creative filmmaker and I applied that knowledge to all of my films…
I also Directed &/or acted as Director of photography on some successful non Martial Arts films: "Chain of Command", "Shark Attack 2", "Shark Attack 3", "The Prophet's Game", with Dennis Hopper, "Time Laps", with Roy Scheider, "China Cry" with Julia Nickson & Russell Wong and did the huge 2nd Unit Photography on both "Remo Williams"… & "Innersace"…
The last movie you made as a director, was back in 2006. What field of work are you currently in? Have any thoughts of returning to the movie business?
The last 2 films that I Directed were both shot on HD and it was truly and enlightening experience. After shooting 16mm and 35mm all of my professional life, I'm now totally committed to the amazing possibilities of HD the RED Camera & Beyond… Today with small portable HD cameras available for around $5000 US and Final Cut Pro available for under $2000 US, it is possible for anyone, anywhere in the world to virtually become their own studio and produce their own films…
Over the past several years, I have been transitioning into the word of academia, teaching filmmaking at Chapman University, USC, Chapman's new branch in Singapore and I'm presently on the adjunct faculty at UCLA and the Academy of Art University in San Francisco.
I have also published my first book entitled: "The Citizen Kane Crash Course In Cinematography"… & I have also completed a second book entitled: "Milestones In Cinema"… which hopefully will be out soon… 
Having worked in Hollywood, Italy, Mexico, Hong Kong, Bangkok, Macau, Indonesia, Israel, South Africa, Bulgaria and Romania… I'm always ready willing and able to return to film production anywhere on the planet.
T. Teymur
/Today.Az/