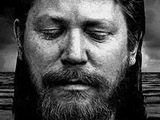 "For the last 30 years I have been involved in conceptual photography, where idea or vision is transformed by the means of photography to an image connected to reality only by my imagination. The initial process is similar to writing poetry. I believe that my work is a visual statement of my life and my dreams," says Misha Gordin.
Gordin was born in Riga, Latvia in 1946. Although World War II had concluded, life under a harsh Soviet regime was very difficult. Gordin recalls that it was a time and place "where nobody smiled." Little is known of Misha's youth before he emigrated to America in 1974. Nor is it clear just when he began to teach himself the art of photography, but by the age of 26 he was awarded second prize in the prestigious 27th Salon of Art Photography (Strassburg, France) and within a few short years was exhibiting in France, Great Britain, Hong Kong, Japan, and America.
In 1986 Misha received a grant from the National Endowment for the Arts and the following year introduced the pivotal series Shout at a solo exhibition for the Detroit Institute of Art. Gordin has received numerous national and international awards and is found in the permanent collection of many distinguished public collections.
"As I was born in former Soviet Union, I consider Azerbaijan as a part of my motherland. I'd love to share my works with Azerbaijani people" Gordin told Today.Az.
And we, of course, would love to share Mr. Gordin's conceptual art with our viewers.
T. Teymur
Today.Az
Click photos to enlarge: