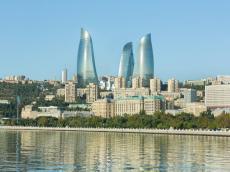 By Azernews
By Rashid Shirinov
The leading Russian service for booking accommodation online Tvil.ru compiled the ranking of the most popular cities of the CIS for traveling on May holidays among the residents of Russia. As usual, Azerbaijani capital Baku was one of the most popular destinations chosen by the Russian tourists.
The ranking is based on the analysis of requests and bookings of hotels and apartments for the period from April 29 to May 10, 2018.
Thus, Belarusian capital Minsk ranked the first, followed by Kazakhstan's Astana, and Azerbaijan's Baku. The ranking says that tourists booking accommodation for four nights will spend about $52 per day in Baku, $44 in Minsk and $50 in Astana.
In another research recently conducted by Skyscanner, Azerbaijan entered the Top 10 most affordable tourist destinations for Russian tourists. It said that a two-week trip to Azerbaijan for two will cost the Russian travelers about $1,616, and some $426 of this figure is the cost of the flight. Experts calculated that the average daily budget for two in Azerbaijan is about $85.  
Over the past year, the country received up to 2.7 million tourists, 31.6 percent of whom were guests from Russia. Taking into account the opening of more and more new flight routes between Russia and Azerbaijan, this figure will further increase in the near future.
Today Azerbaijan can accommodate about 40,000 tourists in its 575 hotels, which include a series of luxury ones – Excelsior, Hilton, Four Seasons, Fairmont, JW Marriott – as well as sufficient number of budget hotels for cost-conscious travelers. Moreover, 25 hostels and 92 apartments for tourists operate in Baku. The provided accommodation establishments are of any price range, starting from just $6-7 per night in hostels and $25 in hotels.