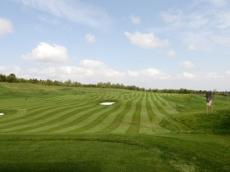 By AzerNews
Azerbaijan with its splendid nature, located in all the nine climate zones, is a conducive place for all sports and leisure activities.
One of the world's most prestigious sports, golf, is available and developing in the country. Its wide spread is expected to increase with the opening of the Azerbaijan National Golf Club in the northern city of Guba.
The golf sport in Azerbaijan was established in 2012 when the Azerbaijan Golf Federation was set up, and continues to successfully win the hearts of Azerbaijanis.
The opening of this unique facility in the South Caucasus on September 18 was attended by President Ilham Aliyev, which indicates great attention paid to the sport in the country.
A number of comprehensive state reforms aimed at popularizing sports in Azerbaijan and the creation of necessary conditions for sports have led to a rapid increase in the number of people doing sports in the regions.
A proper golf course is one of the main requirements for golf, therefore, development of the sport in the region is reasonable. The establishment of such a facility is expected to contribute to the development of not only Guba, but also of the region as a whole.
The golf club, which was constructed in a year, has 44 golf vehicles to drive over 92 hectares of the club's total area. The 18-hole golf course covers an area of 75 hectares.
The office building houses a sporting goods store and a cafe.
Moreover, three artificial lakes have been created within the facility to install water barriers. There are also plans to conduct training sessions there.
The conditions provided at the club meet the highest international standards, which allows to conduct various international competitions in the future.
According to Anar Mammadov, President of the Azerbaijan Golf Federation, the federation is in close cooperation with the Youth and Sports Ministry and National Olympic Committee, and is preparing a strategy for the development of Azerbaijani golf.
Golf, which in some countries is believed to be exclusively a sport of wealthy people, is very popular and played by millions in America, Europe, Australia and Eastern Asia.
The Azerbaijani federation also attracts children to encourage the young generation to engage in this sport, implementing projects at Baku schools.
The establishment of the Golf Academy is also expected in the near future to educate the population on this graceful sport. Anyone aged at least four will be able to apply to the academy.
However, the age limit is strict for those who want to become professional golf players and is between 16 and 50.
A mini-golf course, which is under construction in Baku, will also be available for golf players soon.
Later, the most talented Academy teenage students will form the first Azerbaijani national golf team to participate at international tournaments.