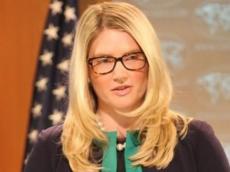 U.S. will continue to press for the resignation of President Bashar al-Assad, U.S. State Department spokesman Marie Harf said on Thursday at a press briefing in Washington, RIA Novosti reported.
"Our position has not changed, Assad has lost all credibility and can not be part of the Syrian future," - Harf said.
She added that the U.S. is willing to work with the Syrian government over the liquidation of chemical weapons. Harf also warned Assad's government not to try to delay time and added that the U.S. is still considering the option of a military strike against Syria.
U.S. will go in three directions - negotiations with Russia, negotiations with UN, and providing support to the Syrian opposition, State Department spokesman concluded.
The Syrian government has agreed to implement a plan for the transfer of chemical weapons under international control and documentation was sent to the United Nations for accession to the International Convention for the Prohibition of Chemical Weapons.


/Trend/