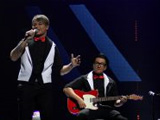 Latvian broadcaster LTV have rung the changes in the selection process of Eirodziesma, the competition which will select the Baltic state's entry for the 2012 edition of Europe's Favourite TV Show in Baku.
Musiqq represented Latvia in the 2011 Eurovision Song Contest with Angel In Disguise, but failed to reach the Final. The last time Latvia reached the Final was back in 2008 with Pirates Of The Sea and their sea faring anthem Wolves Of The Sea, finishing in 12th place in Belgrade.
As a result of the three year absence in the Final of Europe's Favourite TV Show, Latvia are trying something different in their approach to find a successful 2012 entry.
/Eurovision TV/