James Van Der Beek has declared that he thinks today's young stars are subject to "unhealthy" amounts of media scrutiny.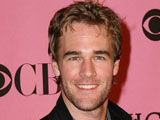 The former Dawson's Creek actor affirmed that he is glad his breakthrough into acting came far from Hollywood, as he believes the show's cast would have struggled in the celebrity spotlight.
He told Pop Eater: "I think part of [our success] was the fact that we were in North Carolina and we were more or less raised by a really good crew of people down there in a really great community. I think, had we been in LA, we probably would have fallen under some different influences at a very crucial time in our lives.
"The fact that we were so far away means that we made the mistakes that all kinds of kids make, especially when you're on a TV show, but we were doing it without having it all over the cover of Us magazine. So we could afford to not be perfect and learn from our mistakes and not have to pay for them for the rest of our lives."
The 32-year-old went on to admit that he sympathises with the new generation of young actors who suffer almost constant intrusion from the press.
He added: "I feel so bad for these kids now who are on these shows, and they make one misstep and they're labelled and branded and they're just followed and stalked.
"And it's just really unhealthy. I don't know how anyone can come out of that unscathed... I think we were just very fortunate."
/Digital Spy/