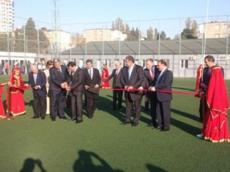 By AzerNews
The opening ceremony of the "Vatan" social football school was held in Baku on November 4.
It is presented by the joint project of Azerbaijan's Ministry of Youth and Sports and Real Madrid Foundation (Fundación Real Madrid).
The main goal of the "Protecting Children's Health: Children's Attraction to Sports and their Integration in Society" project was creating the first social football school in Baku based on the social sports model of Real Madrid Foundation.
The event was attended by Azerbaijan's Youth and Sports Minister Azad Rahimov, Adviser to Azerbaijan's Education Minister Huseyn Aliyev, Chief Executive of Binagadi district of Baku Haladdin Iskandarov, Secretary General of Azerbaijan's Association of Football Federations (AFFA) Elkhan Mammadov, Head of the "Vatan" republican specialized children's and youth football school of Olympic reserve Vasif Mammadov, Executive Vice-President of Real Madrid Foundation Enrique Sanchez, and other guests.
Speaking at the event, Azad Rahimov said that the school would help football rise on new heights among teenagers.
"We are constantly saying that the future of football in Azerbaijan is related to youth football, so the opening of this kind of school is extremely important to us," Rahimov said.
"Any help from foreign countries is very important to us. I welcome the initiative of the Real Madrid Foundation, representing one of the strongest clubs in the world. I hope that the children who will be taught in this school will successfully play for Azerbaijan's national team in future," he added.
Enrique Sanche also gave a speech, expressing his gratitude to the Azerbaijani side for its support of the project.
He said that the Foundation was proud of opening such a stadium in Azerbaijan, and expressed confidence that the project would be successful.
"In April, we signed a cooperation agreement, and then I had the opportunity to meet with Minister Azad Rahimov," he said. "We are honored to be represented in a country like Azerbaijan, a country that will host? the first European Games."
The school, established in the framework of the project supported by Azerbaijan's Ministry of Education, has all the necessary conditions for training children and adolescents ages of 8-17 years (50 boys, 50 girls).