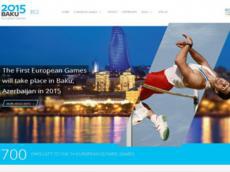 By AzerNews
Presentation of the First European Games Baku 2015 will be held at the regional forum of the National Olympic Committees (NOCs) of the CIS in Almaty on October 9-11, a source at the the Azerbaijan's NOC said on October 8.
President of Kazakhstan's NOC Temirkhan Dosmukhanbetov will open the forum, at which Vice-President of Azerbaijan's NOC Chingiz Huseynzadeh will make presentation about the upcoming Games.
Representatives of the CIS and Baltic countries will hold discussions at the "round table."
During the meeting issues on preparations for the Winter Olympics in Sochi and the preparation for the European Youth Olympic Festival to be held in Tbilisi in 2015 will be discussed.
The first European Games will be held in the Azerbaijani capital on June 12-28, 2015. The construction of an Olympic stadium in the city will be completed by late February 2015.
Moreover, Olympic Village occupying space of 382,397 square meters will be available at the European Games in Baku's Nizami district close to the main facilities intended for holding the Games -- the Olympic Stadium, Water Sports Center, the gymnastics complex and the airport.