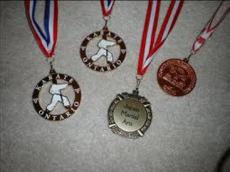 Azerbaijani karate fighters have claimed a clutch of four medals in an Open Shotokan Karate Championships in Dubai, the UAE.
In girl`s competition aged 10-11, Ayla Rzayeva (35 kg) and Fidan Teimurova (up to 35 kg) scooped silver, while in boy`s event, Elgun Demirchiyev (up to 40 kg) won bronze medal of the championship.
Another Azerbaijani fighter Shahin Atamov (up to 84 kg) managed to win bronze in boy`s event aged 18.
Shotokan is a system (not a style) of karate, developed from various martial arts by Gichin Funakoshi and his son Gigo (Yoshitaka) Funakoshi. Being the biggest school, Shotokan is considered a traditional and influential form of karate do.