The memorial complex dedicated to the memory of the Azerbaijanis died in Afghanistan was opened in Lankaran on Wednesday, the Union of Afghan-Veterans of Azerbaijan told.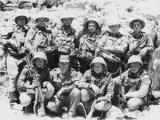 As Trend informs, the complex was erected on the 17th anniversary of the withdrawal of the Soviet troops from Afghanistan. The Union of Afghan-Veterans of Azerbaijan also held events in other regions of the country on this case.
They mentioned facts of participation of over 10,000 Azerbaijnai citizents in the battles, taken place in Afghanistan from 1979 to 1989. 208 of them died, while 7 were taken prisoner and missed.