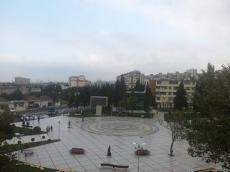 A new park appeared in Baku's Khatai district.  
The corner of relaxation has been created near the secondary school ?86, in front of the residential building ?16 on Rahib Mammadov street.  
All conditions have been created for the residents of near houses in the park established on the original project. A large display has been installed at the park entrance, built the cafe "Mother and child", while the playground for children decorated with various attractions.
Modern lighting system and original benches have been set up, decorative trees and shrubs planted in the territory.



/Day.Az/