The leader of the National Unity movement, Lala Shovkat has moved away from the New Policy (YeS) election bloc.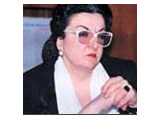 In the explanatory statement released on July 4, Lala Shovkat said that the establishment of the YeS is a consequence of the necessity to unite the opposition, given the dependence of solutions to the existing difficult, socioeconomic problems on the results of the upcoming parliamentary elections.
According to Lala Shovkat, despite urgent calls and recommendations by the Azeri and international communities, the ruling authorities have rejected to make relevant changes in the current Election Code, thereby paving the legal way for the forming of election commissions on a parity basis. "I believe that in the existing circumstances, the YeS and other opposition blocs will mobilize all capacities to achieve the democratization of voting conditions and improvement of the current legislation, as well as to provide necessary guarantees for the return of exiled politicians and keep urgent rallies running. In addition, it is necessary to set up an appropriate ground for the unification of all opposition forces into a single democratic front," Ms. Shovkat said in the statement.
She explained the decision to quit the YeS by differences concerning the strategy and tactics of the bloc, and her staunch devotion to steer an independent political course.