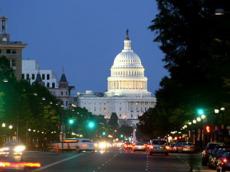 , Co-founder and Director of U.S. Azeris Network (USAN) Badir Mammadli, Director of Washington Center for Azerbaijani Studies (WCAS) Gadir Shiraliyev and acting Director of U.S.-Azerbaijan Chamber of Commerce, Susan Sadigova met with the U.S. Ambassador to Azerbaijan, Richard Morningstar in Washington, D.C yesterday.
Occupation of Nagorno-Karabakh region of Azerbaijan by Armenian armed forces, successful bilateral ties and development of U.S.-Azerbaijani cultural and social relations were among the issues discussed.
During the meeting, leaders of the Azerbaijani organizations expressed hope for the United States to be more active in helping resolve the Nagorno-Karabakh conflict, especially with the new administration of President Barack Obama, including newly appointed Secretary of State John Kerry taking office this month. New ways to involve the Azerbaijani-American community in development of bilateral relations were also touched upon. Heads of organizations expressed concerns over direct U.S. aid to occupied Nagorno-Karabakh and biased stance of senators Robert Menendez and Barbara Boxer on the issue, and hoped the Section 907 would be repealed soon.
The representative of U.S. Azeris Network Badir Mammadli told Ambassador Morningstar about the role USAN has been playing in educating the Azerbaijani Diaspora in the United States on the issues of advocacy and political activity. Mr. Morningstar thanked the organizations for their efforts and expressed hope to meet a wider audience of Azerbaijani-American community in the near future.
/AzerTAc/