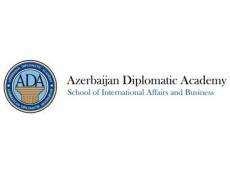 2012 has been a milestone year for Azerbaijan Diplomatic Academy due to the inauguration of its new campus on September 21. On that day, President Ilham Aliyev took part in the opening ceremony and delivered a key note address in front of ADA students, faculty and heads of diplomatic missions of the Republic of Azerbaijan, gathered in Baku for bi-annual conference of the Azerbaijani ambassadors.
The new campus hosts School of Public and International Affairs, School of Business, Library and Student Center. It is called "green and smart campus" due to the usage of renewable energy from geothermal sources, and complete automated system of academic and facility management.
On September 26-30, ADA has hosted the 40th annual forum of the Rectors and Deans of the Diplomatic Academies and Schools of International Affairs. More than 90 Rectors and deans have participated in the forum from around 60 countries.
In 2012, ADA has admitted 160 new BA and 30 new MA students. Total number of International students has reached 22 from 19 countries. They are studying in Baku with the help of International Fellowship granted by Ministry of Foreign of Affairs of the Republic of Azerbaijan.
Caspian Center for Energy and Environment was launched with the financial support from SOCAR. The Center's main focus of activity is on research, publications, outreach and advocacy on energy and environmental issues. It organizes workshops and conferences in partnership with leading energy companies in the region.
Executive Education program continued successful projects, such as training of 20 Afghan civil servants in ADA on the topic of rule of law and democracy; organization of the annual summer school on energy issues in which 40 local and foreign participants took part; conduct of the Jean Monet courses on EU studies for Azerbaijani civil servants and diplomats and corporate programs.
ADA Students have travelled to several regional countries such as Turkey, Georgia and paid a special visit to NATO Headquarters in Brussels, with the support of the Azerbaijan Mission in NATO. ADA has also hosted a number of prominent speakers from foreign countries in its own campus, such as NATO Secretary General Anders fog Rasmussen, Prime Minister of Latvia Valdis Dombroskis; Ambassador Eric Fournier, Director at the Continental Europe Department of the French Foreign Ministry and others.
In 2012 ADA continued publishing its bi-weekly analytical journal "Azerbaijan in the World" in which policy articles on regional issues were published. ADA has also published a book, titled "Azerbaijan as a Regional Hub in Central Eurasia".
A research workshop of Azerbaijani and Turkish PHD students was organized in Ankara at the Middle East Technical University. Several Azerbaijani PHD graduates from leading US and European universities were recruited into teaching and research positions at ADA as a result of this workshop.
In 2012 ADA has signed 8 Memorandums of Understanding with foreign universities, including Diplomatic Academies of Spain, Qatar, Peru, Serbia, Morocco, Vytautas Magnus University in Latvia and joined Erasmus Mundus program of EU. With Maastricht School of Management a special dual degree program on Executive MBA is underway.

/AzerTAc/