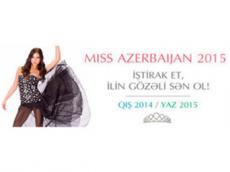 By AzerNews
"Miss Azerbaijan-2015" National beauty contest has kicked off.
Unmarried girls from 18 to 28 years-old have a chance to take part at the competition.
In 2014, the most beautiful girl was chosen by Azerbaijani citizens and foreign internet users via online and SMS voting on the official web-site of the contest (www.missazerbaijan.org).
Unlike 2014, this year, the organizers have expanded the authority of internet-users. They will have the opportunity to get familiar with photos and questionnaire of the participants, pretending to participate at the contest and evaluate their chances to the victory on the official page "Miss Azerbaijan" on the facebook social network (www.facebook.com/missazerbaijan.org) before the beginning of the first casting. The casting will be held at the end of current year.
The beautiful girls who want to take part at the competition could follow this link for application: www.missazerbaijan.org/form.
"Miss Azerbaijan" National contests have been held in Azerbaijan since 1996.
The organizing committee is set up before the start of the contest, annually. Its include members of the public and well-known media persons, who voluntarily provide organizational support for the contest.
The organizing committee is also working with various media directory information, photographers, designers, freelancers and sponsors, who cover the competition on mutually beneficial terms.
Some 16 girls are selected after a casting and qualifying tour for participation in the final.
Invited independent juries, artists and cultural figures, representatives of show business and the media, as well as the sponsors evaluate performances of finalists on 10 points system during the final. In accordance with these Miss Azerbaijan-2015calculations, main and sponsored nominations are determined.