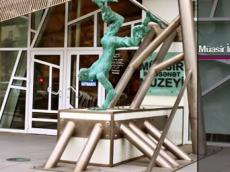 The Museum of Modern Art in Baku will host on June 5 an exhibition entitled "Documentary Photography: Inge Morath" putting on display the works of some award winners photographers.
The exhibition represents an overview of the life and work of Inge Morath, renowned Austrian photographer of the Magnum agency, as well as the work of two young women photographers, Inge Morath Award winners - Olivia Arthur (UK) and Lurdes R. Basoli (Spain).
Organizers of the exhibition that will be open until July 5 are Kurt Kaindl and Brigitte Bluml from Austrian Fotohof Gallery located in Salzburg.
Inge Morath is one of the outstanding photographers of famous Magnum agency. She began photographing in London in 1951, and joined Magnum Photos as a photographer in 1953.
Morath traveled extensively in Europe, North Africa and the Middle East. Some of her most important works consist of portraits of ordinary people and celebrities, as well as photography of places such as Boris Pasternak's home, Pushkin's library, Chekhov's house, Mao Zedong's bedroom, artists' studios and cemetery memorials.
The exhibition will present her most outstanding works from 1954 to 1988. The collection of selected works shows black and white photographs of her reports from Spain, England, France, Russia, China, the U.S. and Austria.
Morath worked for Magnum agency for more than fifty years. The Inge Morath Award was established by the members of Magnum Photos. The annual Award is given to a woman photographer under thirty, to help in completion of a long-term documentary project.
Photos of the award winner Olivia Arthur "The Middle Distance" cover five countries across the border between Europe and Asia - Turkey, Georgia, Azerbaijan, Kazakhstan and Russia.
The project focuses particularly on young women who are making choices between education, work and family. "I feel that the opportunities and restrictions on young women at this stage is a huge indicator of the society they live in," Arthur believes.
In her project "Caracas, The City of Lost Bullets" Lurdes R. Basoli shows that in Venezuela, life is valueless as the price of a bullet. The project proposes a black and white x-ray of an unending war and urban violence that annually kill thousands of young people in the capital city of Venezuela.
In the project, the artist was working on different situations and emotions - life and death, fear, helplessness, anger, resignation, desolation, and pain. "I have been mainly focused on the victims, such as mothers, sisters and brothers, wives, sons and daughters, and injured people," Basoli said.
/AzerNews/