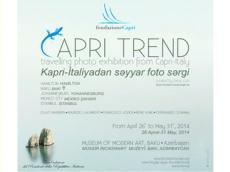 The Museum of Modern Art will present an Italian exhibition "Capri Trend. Travelling photo exhibition from Capri – Italy" on April 26.
The Capri Foundation is glad to announce the collaboration with the Heydar Aliyev Foundation and the Museum of Modern Art in Baku.
The Capri Foundation was founded in 2009 by a group of entrepreneur and local authorities to promote culture of Capri Island. After five years of activities devoted to culture, contemporary art, contemporary photography, contemporary dance and Capri Trendwatching Festival, that sketch the outlines of the next future through research data, case histories, workshops and open lectures.
The Capri Foundation will present the first exhibition Capri Trend, an exhibition that celebrate the five years of its activity, presented in five different countries.
The exhibition includes some of the most Italian photographers Ferdinando Scianna. Olivo Barbieri, Maurizio Galimberti, Francesco Jodice, Irene Kung.
The exhibition will include about 30 photographs to promote the Capri culture and beauty abroad with an authorial and contemporary sight.
The exhibition will run until 31 May 2014.

/AzerTAc/