Any gas or oil pipelines across the floor of the Caspian Sea would be environmentally unacceptable, an official with the Russian Natural Resources Ministry said Thursday.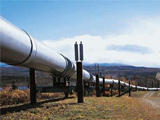 Since the early 2000s, the ex-Soviet republics of Kazakhstan and Azerbaijan have been considering projects to lay natural gas or oil pipelines across the bed of the Caspian Sea and bypassing Russia. However, Moscow has consistently opposed the idea, citing environmental concerns.
"We are worried by reports from various sources regarding projects being prepared to lay down a pipeline [across the Caspian Sea], primarily by those that propose transporting hydrocarbons while bypassing Russia," Amirkhan Amirkhanov, a deputy head of the ministry's department for state policy on environmental protection, said.
He said that no matter what the scale of a pipeline project, and more importantly, of an oil pipeline project might be, all would be unacceptable from an environmental standpoint.
"This [the Caspian Sea] is a closed system, with no outlets to the world's oceans, and everything that happens there remain there," Amirkhanov said. "This is a problem that concerns the future of the Caspian Sea. Considering the high seismic activity in the region, with tremors of up to 9 on the Richter scale, the projects could have dangerous consequences."
Although Russia opposes any pipeline projects across the floor of the Caspian Sea, at the same it has been constructing a natural gas pipeline under the $10.5-billion North European Gas Pipeline (NEGP) project to supply Western Europe with gas via a pipeline leading from Russia to Germany across the floor of the Baltic Sea. RIA Novosti