Supported by the World Bank, the School of International Economics started in Georgia last year.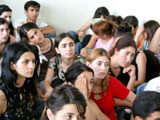 Five Azerbaijani students are also studying at this school for a two-year master's degree. One of the Azeri students, Shariyar Nasirov, graduated from Khazar University, told the APA that graduates from other countries will be able to enroll in this school from next year.
The School has branches in Budapest, Moscow and Prague.
Khagani Kerimov, graduated from State Economics University, said that Azerbaijani students are in minority in the school.
Azerbaijan is represented at the Director's Board of this School by the Executive Director of the State Oil Fund, Shamkhar Movsumov.