The price bread rose to 30 kopecks from 20 kopecks a loaf in Baku and Ganja. Bakeries don't rule out further price hike as well after the price of energy supplies sharply went up.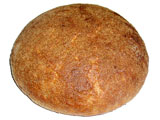 Fatoglu Flour Production and Bakery told APA that the price of flour rose 20 kopecks to AZN 7.2 per 50kg bag since yesterday because the rise came from the increase of electricity price, warning that further rise is expected if the railway expenses go up too.
Neon Bakery in Ganja said that price of 550-gram loaf was increased to 20 kopecks from 14 kopecks today.
The Agriculture Ministry officer Sabir Valiyev said hike in bread price is natural after the cost of energy increased.
"The Government won't allow the hike in the bread price. There is no grain shortage in Azerbaijan to stimulate the bread price. 90% of the 1.5-tonne needs for grain were covered by the domestic production. 800,000 tonnes of grains were imported to exceed the demand," he said.
He said that the grains production and acreage reduced in 2006 due to unfavorable weather.
The Cabinet spokesman Akif Ali told that the companies set the bread prices independently.
"The Government doesn't interfere in the pricing unless the increase hits catastrophic level. We see the price rise natural," he underscored.