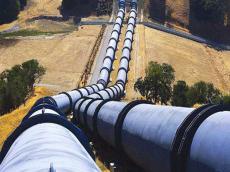 By Azernews
By Laman Ismayilova
Over 1,887,729 million tons of Azerbaijani oil was transported via Baku-Tbilisi-Ceyhan-BTC main export pipeline in December 2016.
Some 1,374,823 million tons of this volume fell to the share of Azerbaijan's energy giant SOCAR.
During January-December of 2016, the volume of the exported oil from Ceyhan Port to the world market totaled 28,640,827 million tons.
In general, 319,834,599 million tons of Azerbaijani oil has been exported from Ceyhan Port to
Meanwhile, the Baku-Tbilisi-Ceyhan-BTC main export pipeline transported 2,386,450 tons of Azerbaijani oil in December, 2016, according to SOCAR.
The company said 28,862,673 tons of oil was exported from Ceyhan Port in 2016. In general, 321, 538, 62 tons of oil have been pumped to BTC since the start of the exploitation until January 1, 2017.
In addition, 441,271 tons of Turkmen oil were pumped via BTC in December, 2016.
BTC pipeline takes oil from the Caspian Sea to the Mediterranean instead of using tanker transport along the Black Sea and the highly congested Bosporus.
The first oil began to flow at the end of 2005 following a series of tests and the gradual filling process. The BTC became fully operational in 2006.
BP holds a 30% stake in the consortium running the pipeline. Other consortium members include Azerbaijan's state oil company SOCAR (25%), Amerada Hess (2.36%), Eni (5%), Inpex (2.5%), Itochu (3.4%), Statoil (8.71%), Total-FINA-ELF (5%), TPAO (6.53%) and Unocal (8.9%). The pipeline was constructed by, and is managed by, the consortium company Baku-Tbilisi-Ceyhan Pipeline Company (BTC Co).