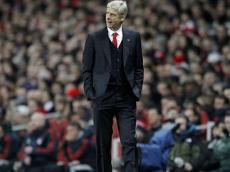 There's no getting around it: the Champions League is a pipe dream for Arsène Wenger. He has never managed to lift the trophy despite enjoying 15 straight campaigns in the competition and, after Wednesday's defeat at home to Bayern, it doesn't look like being 16th time lucky.
When his Arsenal side was in its pomp, in 2005-06, it came oh-so close, only to fall to Barcelona in the final in Paris. The Gunners were also just a couple of matches away from glory in 2008-09, before being knocked out by Manchester United in the semis.
The rest of Wenger's Champions League record at Arsenal is middling at best. The London outfit failed to progress from its group in the Frenchman's debut CL campaign at the club (1998-99), a feat it duly repeated the following season.
The quarter-final stage is the furthest the Londoners have made it in the last five years. While Wenger's men reached – and lost in – the last eight in 2009-10, they failed even to advance from the last 16 in the following three seasons (2010-11, 2011-12 and 2012-13).
This year looks very much like following last season's script. Having been drawn against Bayern, with the first leg at home, the Gunners were doomed last term following a 3-1 defeat at the Emirates, despite a brave 2-0 second-leg win in Munich that ultimately counted for nothing.
This time around, Wenger's men again succumbed 2-0 at home in the first leg to once more leave his and their dreams in tatters.

/Marca/