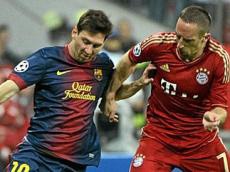 The announcement of the 23 candidates for the 2013 Ballon d'Or has set tongues wagging in the world of football, bringing about the usual debates about who has been the best player in the world this year.
Bookmaker Betfair.com is quite sure in its early predictions that the award will go to either France's Franck Ribéry, the leader of a Bayern Munich side which has won almost everything, or Argentina's Lionel Messi.
The odds of the Barcelona star winning the award for a fifth consecutive year are €2.74 per euro bet on Betfair.com. Ribéry has an early lead on Messi with odds of 2.04.
Right now Cristiano Ronaldo has a significantly less chance of winning, with odds of 6 Euros to one. The Portuguese does not only trail the two favourites, Ribéry and Messi, but also players like Falcao, Iniesta and Ibrahimovic, who offer odds of 4.6 Euros to one.
The Blatter affair may have affected betting, a tendency which could surely change in coming weeks. Remember that FIFA will announce the names of the three finalists on 2nd December.
Spain's second candidate on the 23 man shortlist, Xavi Hernández trails at some distance with odds of 30 Euros to one.

/Marca/