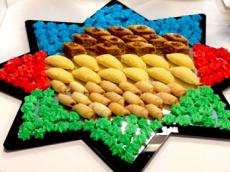 By AzerNews
The International Festival of National Sweets thrilled up Azerbaijan's beautiful city of Shaki on July 20.
The opening ceremony of the festival took place in Ashagi Karvansaray complex that dates back to the 19th century.
Representatives of 22 regions of Azerbaijan and 15 countries of the world offered their national and traditional sweets during the festival.
Along with the national sweets, participants also presented their national costume in the special pavilions, which were equipped with household items, rugs and symbols of their countries, creating a unique atmosphere.
The event also hosted representatives of UNESCO including President of the International Organization of Folk Art Carmen de Padilla, IOV Chairperson George Frandsen, Head of the World Association of Chefs' Societies Gissur Gudmundsson, as well as various international organizations.
The event was co-organized by the National Cuisine Center Centre, Azerbaijan's Culture and Tourism Ministry, Azerbaijan's National Cuisine Association and the executive authority of Shaki.
The choice of Shaki - home for the famous Shaki baklava - for hosting the festival was not accidental. The city is famous for its chefs and cuisine.
Regions of the country presented the guests their sweet dishes like lipsmacking firni, khashil and sweet pilaf.
Guests of the event tried a lot of national pastry including delightful baklava, fasali, umach halva, as well as a variety of traditional sweets like nogul and samani halva.
Sweets play key role among Azerbaijani cuisine' ingredients. The cuisine is one of the most interesting ones in the whole world and the Orient in particular. Besides tasting traditional dishes like dolma and pilaf, no foreigners even those who were on a diet, could resist tasting wonderful sweets in Azerbaijan. Instead of souvenirs, most of tourists took delicious pastry abroad to feast their friends.
The Azerbaijani sweet pastries include more than 30 varieties with poppy seeds, walnuts, almonds, sesame seeds, ginger, cardamom, which make it spicy and especially tasty.
Every region of Azerbaijan has its own special recipe for local sweets, which may even have different shape depending on the tradition of each region.
Baklava and shekerbura - adornments of Novruz holiday- are among the most famous Azerbaijani sweets.