Armenia's foreign debt will reach 36 per cent of GDP in 2009 compared to 13.2 per cent in 2008.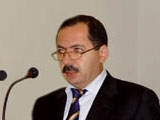 According to the annual report of the Armenia's finance ministry, presented by the minister of finance  Tigran Davtyan , more than a half of the foreign debt is formed from loans granted for a 35-40 year-period with 7 to 10 years grace period.
The weighted average annual interest rate of confessional loans reached 0.8 per cent.
The national debt will amount to AMD 140.6 billion or 4.5 per cent relative to GDP at the end of 2009.
/PanARMENIAN.Net/