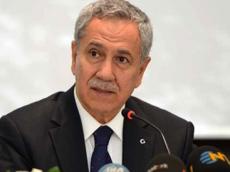 There is a widespread sentiment among Turkish people that wants Prime Minister Recep Tayyip Erdogan to run for the presidential elections on August 10, Deputy Prime Minister Bulent Arinc said,
Anadolu Agency
reported.
The ruling Justice and Development Party is likely to announce its presidential candidate in mid-June, Arinc told Qatar-based TV channel Al Jazeera on Saturday.
Stressing that his party gained landslide victories in the last three parliamentary elections, he said that rarely a political party stays in power for this long and becomes consistently successful in its foreign policies.
"We believe in the love and constant support that the people have for us," he said.
Turkey's ruling party since 2002, the Justice and Development Party won 45.5 percent of the nation-wide vote in the local elections on March 30.
- Turkey - Iraq relations
Stating that Turkey desires good and stable relations with Iraq, Arinc said, "We believe that Iraq's territorial integrity is essential."
"We understand that the wealth of Iraq belongs to the Iraqi people," he said.
On May 23, Baghdad filed a lawsuit against Ankara over the flow of oil from Kurdish regional administration in Iraq's north to Turkey's Mediterranean export hub of Ceyhan.
The oil from the Kurdish region has been stored in Ceyhan for the last six months in line with an agreement signed between Ankara and Irbil.
The central government in Baghdad opposes the sale of the stored oil, claiming it would bypass the country's national State Oil Marketing Company and violate Iraq's constitution.
The Kurdish government in Irbil, however, says that Baghdad cut their share of the national budget and that they are determined to export oil via Turkey in order to compensate the loss.

/Trend/