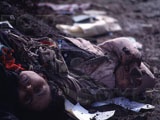 Photographs taken by the Russian journalist Victoria Ivleva in Khojaly and posted on her website at http://www.fotosoyuz.ru are another proof of atrocities committed by Armenian forces against peaceful Azerbaijani population.
The photos taken by Ivleva a few days after the February 1992 genocide are irrefutable proof that Khojaly women and children were shot by Armenians not only around the Armenian village of Nakhichevanik in Asgaran region where basic ambush was set up near the rural pig farm, but also in Khojaly, not letting many people even leave the village. It is also fully exposes the lie about "safe passage" allegedly provided to the civilian population.
One of the photographs clearly shows that right hand of the girl shot dead in the leg has been cut off. The bodies were thrown to the side of the road, so they do not interfere the Armenian looters to take away abandoned property of the destroyed Khojaly.
/AzerTac/
Click photos to enlarge: