Italy will hence support Azerbaijan's position on the Nagorno-Karabakh conflict at the Parliamentary Assembly of the Council of Europe (PACE), Fiorella Provera, the chairman of the permanent parliamentary commission on international relations and emigration of the Italian Senate, told a meeting with Azerbaijani President Ilham Aliyev on Thursday.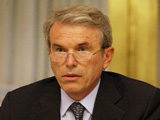 She underlined the prospects for development of the cooperation between Italy and Azerbaijan, including the expansion of the inter-parliamentary bonds. She underlined that the people of Azerbaijan suffered from the conflict.
Appreciating such a standpoint by Provera Aliyev stated on the successful of development of bilateral relationships in different spheres, including the economy. He also stressed the level of bilateral cooperation of Azerbaijan and Italy within international organizations including the PACE.