Co-rapporteurs of Parliamentary Assembly of Council of Europe (PA CE) over Azerbaijan Andreas Gross and Andres Herkel will pay the next visit to Baku on 17April.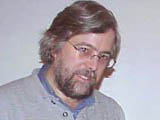 It was stated to APA from the office of special representative of CE in Baku that, the purpose of the visit that, will last till April 20 is to hold monitoring within the situation of democracy, preparation to elections.
European diplomats will have meetings with Azerbaijan officials, CEC leadership, NGO representatives, opposition leaders and Mass Media representatives.