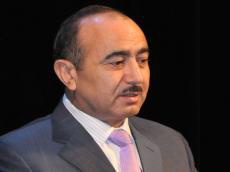 Armenian President Serzh Sargsyan for the next time violates a mutual agreement and reveals some details of the issues discussed at the closed presidential meeting, the head of Public and Political Issues Department of Azerbaijani Presidential Administration Ali Hasanov said in his interview with AzerTAc news agency.
"But the most deplorable thing is that he distorts the demonstrated position and the issues raised by the sides at the meeting and falsifies them in accordance with his subjective opinions and Armenia's interests," Hasanov added.
"Of course, these actions do not do him credit as the president of the country," Hasanov said. "If these facts had to be made public after the meeting, the presidents would have held a press conference and commented on all the issues. Only such individuals as Sargsyan may publicize the discussed issues in a distorted way with his subjective opinion and interests added after returning back to his country in an effort to become a "false hero".

/Trend/