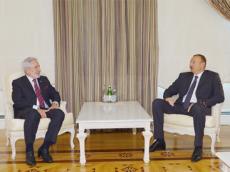 President of the Republic of Azerbaijan Ilham Aliyev has received Foreign Minister of the Republic of Nicaragua Samuel Santos Lopez.
Stressing the importance of the fact that Foreign Minister Samuel Santos Lopez`s visit to Azerbaijan was the first high-level trip from Nicaragua to the country, the head of state expressed confidence that such visits would be intensified in the future.
Touching upon issues related to the development of bilateral relations between the two countries, President Ilham Aliyev said there were good opportunities for cooperation between Azerbaijan and Nicaragua in the political, economic, investment and other fields.
Nicaraguan FM Samuel Santos Lopez expressed satisfaction with his first official visit to Azerbaijan.
The minister said ongoing rapid development processes in Azerbaijan made deep impression on him.