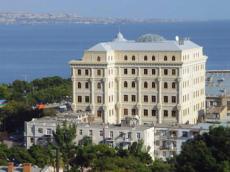 French Ouest-France daily has published an article hailing the activities of the Heydar Aliyev Foundation both in Azerbaijan and abroad.
The article quotes French Senator Nathalie Goulet, who says president of the foundation Mehriban Aliyeva attaches special emphasis to education and healthcare. The article says the foundation constructs new schools and hospitals in Azerbaijan, praising its charitable activities in foreign countries. The newspaper says the Heydar Aliyev Foundation contributed to drawing up a catalogue of books for the Vatican Library, repairing stained-glass windows of the Strasbourg Cathedral, and restoring tens of monuments in the Orne Department in France.
The article praises Azerbaijan`s development, saying the country is a democratic and secular state, in which representatives of various ethnicities and religious have been living together in peace for centuries.
The newspaper also says a documentary highlighting the Heydar Aliyev Foundation's assistance to the Orne Department in repairing five churches will be made in France.
/AzerTAc/