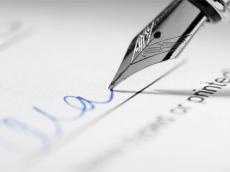 A program for cooperation in the sphere of culture has been signed between Russia's Ministry of Culture and Azerbaijani Ministry of Culture and Tourism for 2014-2016.
The document was signed by Azerbaijan's Minister of Culture and Tourism, Abulfas Garayev and his Russian counterpart Vladimir Medinsky during Garayev's visit to this country, Azerbaijani Ministry of Culture and Tourism said on June 20.
The two counties have an intergovernmental agreement on cooperation in the sphere of humanitarian policy that covers such fields as science, education and others, Garayev told reporters after the signing ceremony.
"We hope that after two years, we will sign an agreement again and will continue the joint efforts in accordance with it," he said.
Vladimir Medinsky, for his part, stressed that Russia and Azerbaijan are bound by not only agreements, but also permanent close cooperation at the ministerial and regional level.
"A number of regions productively work directly with Azerbaijan's cultural institutions," he said.
Abulfas Garayev took part in the opening ceremony of the 36th Moscow International Film Festival as a guest of honor.

/Trend/