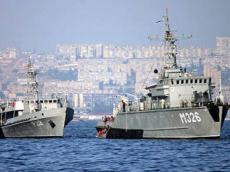 Chief of General Staff of Azerbaijani Navy has been appointed.
Military sources told
APA
that the appointment of the second-rank Captain Shahin Mammadov as a Chief of the General Staff of the Azerbaijani Navy has today been approved by the order of the Defense Minister.
Mammadov acted as the Chief of General Staff in late March, 2014 after the Chief of the General Staff of the MNF, the First-rank Captain Yunus Mammadov's dismissal from his post.
Since then S.Mammadov has also acted as the Commander of Azerbaijani Navy.
Commander of the Azerbaijani Navy, Vice Admiral Shahin Sultanov was dismissed on March 11, 2014.