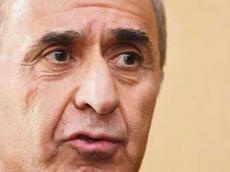 By AzerNews
The greatest threat to peace and stability in the Caucasus is the Nagorno-Karabakh conflict, former Turkish Foreign Minister Hikmet Cetin has said.
Cetin made remarks on April 29 during the session on the theme "Open societies as a method of conflict resolution in difficult situations" of the second Global Shared Societies Forum held in Baku.
Cetin noted that the Nagorno-Karabakh region and seven surrounding districts were occupied by Armenia and more than one million people lost their homes.
He said the OSCE Minsk Group has dealt with resolving this conflict for more than 20 years, but there are no results.
The time has come for concrete steps to resolve the conflict, Cetin emphasized.
"First of all, Armenia should withdraw its troops from surrounding Nagorno-Karabakh regions, it would be an important step in resolving the conflict," Cetin said.
Cetin also noted that such a situation cannot be maintained for a long.
"Addressing the Armenian leaders, I want to tell them to think again about it, since it is known that the social and economic situation in Armenia is very bad," he said.
Cetin further said Armenia can participate in a number of projects in the region, and it is only just needed to liberate the Azerbaijani lands.
The precarious cease-fire between Azerbaijan and Armenia was reached after a lengthy war that displaced over a million Azerbaijanis and has been in place between the two South Caucasus countries since 1994. Since the hostilities, Armenian armed forces have occupied over 20 percent of Azerbaijan's internationally recognized territory, including the Nagorno-Karabakh region and seven surrounding districts.
The UN Security Council has adopted four resolutions on Armenia's withdrawal from the Azerbaijani territory, but they have not been enforced to this day.