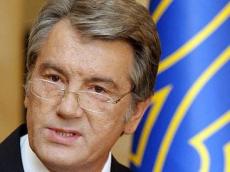 The Nagorno-Karabakh conflict, the Abkhaz and South Ossetian conflicts in Georgia and the conflict in Ukraine are forced by Russia, Ukrainian ex-President Viktor Yushchenko said during a session on "Open societies as a method of conflict settlement in complex situations" of the Second Global Shared Societies Forum on April 28.
"Some 20 percent of Azerbaijan's lands were occupied," he said. "Georgia lost some lands. Being subjected to occupation, Ukraine is losing the lands now."
"But the whole world is silent. Why?" he said.
"All these conflicts are forced or made directly by Moscow," Yushchenko added.
While calling for the conflict settlement, he said that if we are not in agreement, then we will lose in Nagorno-Karabakh, Abkhazia and the Crimea.

/Trend/